We would like to Congratulate Mosser Construction for winning the Renovation category at the 2017 Build Ohio Awards on November 3. Their renovation of BGSU University Hall was completed in June. Their self-performed trades on this project included: Masonry, Concrete, Carpentry, Demolition and Underground Site Work. OCP Contractors, Inc. served as a key subcontractor.
Rudolph Libbe, Inc. was recognized as a finalist in this category for their work as Construction Manager at Risk on the ProMedica Plaza Downtown Campus, which was completed in August.
Pictured are (from left): Connie Moore, Mosser Construction; Rick Jekins, Mosser Construction; Brian Swope, BGSU; Andy Boedeker, Mosser Construction; Kristi Peiffer, BGSU; Hannah Evwaraye, BHDP Architecture and Jeff Morgan, Resource International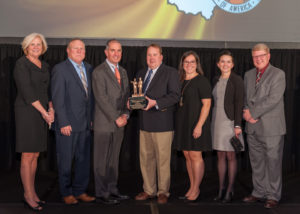 We would like to congratulate OCP Contractors for winning the Specialty Category at the Build Ohio awards on November 3. They were honored for their Design Assist work on the AC Hotel by Marriott in Dublin, Ohio, which was completed in October 2016.
Self Performed Trades on this project included: installation of Panelized Bearing Structure, Flooring Joists, Decking, Tube Steel, Angle Iron, Non Welded Connections and Exterior Sheathing on Panels.
Pictured below (from left): Matt Townsend, Brian Exl, Clark Townsend, Halie Sorg, Matt Vander Hooven, Ed Sellers and Brian Stone, aoo with OCP Contractors.